How Do I Get Free Line Stickers?
Please do not email us regarding sticker requests, our system is not set up that way sorry!
Find the address below of your countries local LINE Office.
Please send us a standard letter-sized S.A.S.E. (self-addressed, stamped envelope) inside the envelope you mail us, and we'll stuff it with stickers and mail it back to you. (Please no big envelopes - everyone gets the same amount).
Once received, it will take 3 to 6 weeks to get back. We've got a lot of fans and get millions of requests and usually can't keep up. Thanks!
Letters, funny pictures, or anything you desire for the sticker stuffer is much appreciated; we love them!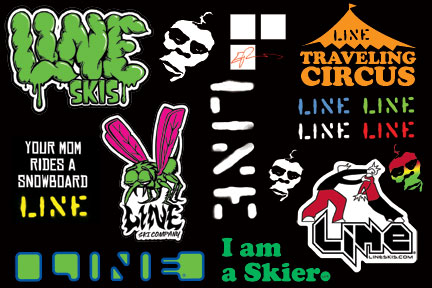 example of what you might get, a 6" x 4" Sticker Sheet

Mail your S.A.S.E. in the United States to:
LINE SKIS USA

Attention: FREE LINE STICKERS PLEASE!
413 Pine Street 3rd Floor
Seattle, WA 98101
Facebook.com/LineSkis
If you live outside of the U.S., please send sticker requests to your country's address listed below.
LINE SKIS UK
Attention: Free Stickers Please!
Black Peak Trading
Unit H5
Sheaf Bank Business Park
Prospect Road
S2 3EN
LINE SKIS NORWAY

Attention: FREE LINE STICKERS PLEASE!
Industrivegen 29
N2836 Biri, Norway
Facebook.com/LineSkisNorge
LINE SKIS CANADA

Attention: FREE LINE STICKERS PLEASE!
1 Westside Drive, Unit #7
Toronto, Ontario
Canada M9C 1B2
LINE SKIS EUROPE + RUSSIA (every EU country except Norway and United Kingdom)

Attention: FREE LINE STICKERS PLEASE!
Seeshaupter Strasse
62 D-82377 Penzberg
Germany
LINE SKIS JAPAN

Attention: FREE LINE STICKERS PLEASE!
TMM Bldg. 6F
1-10-5 Iwamoto-Cho, Chiyoda-Ku
Tokyo, Japan 101-0032
Tel: (+81) 3-6858-2311
LINE SKIS AUSTRALIA

Attention: FREE LINE STICKERS PLEASE!
Bentley Sports
PO BOX 2615
Cheltenham, 3192
Victoria, Australia
Facebook.com/LineSkisAustralia
LINE SKIS NEW ZEALAND

Attention: FREE LINE STICKERS PLEASE!
Sportive NZ
PO BOX 8659
Christchurch, New Zealand