LINE PESCADO & SAKANA
The swallowtail isn't just for looks, that's just an added bonus. With fewer materials in the ski, you'll notice a lighter feel and less resistance in powder, and with an extended effective edge, you'll feel more power and control in your turns.
LONGER EFFECTIVE EDGE
The swallowtail shape forces the tail of the ski down into the snow, thus increasing the total amount of effective edge you feel with each turn. With so much more edge, you can ski the Sakana and Pescado at shorter lengths without sacrificing performance.
REDUCED MATERIALS
The absence of material in the tail drastically reduces weight without sacrificing performance. In powder, the tail drops you back in the snow lifting your tips for ample flotation while maintaining a neutral skiing stance so you're not in the backseat trying to stay afloat.
SWALLOWTAIL DURABILITY
Two full sheets of Titanal, a strong metal alloy, spread throughout the swallowtail on both the Sakana and the Pescado create an insanely stable feel designed to help you power through carves and surf through pow. So if you're concerned about the tail durability, don't be!
Listen in as LINE's Head Ski Engineer, Peter Brigham goes into detail on what makes the LINE Sakana and LINE Pescado so innovative:
SAKANA
THE VERSATILE ALL MOUNTAIN SKI LIKE NO OTHER

The award-winning LINE Sakana is a versatile all-mountain ski like no other on the market. Winning Ski Of The Year from Powder Magazine in 2019, the Sakana is the best ski for all-mountain carving, slashing, and just generally having a great time. Utilizing a unique swallowtail shape and camber through the majority of the ski, the Sakana is made to rail turns on hard snow, but an early rise tip and wide shovel (nose) allow them to surf through deeper snow with ease. A ski that floats on fresh, and carves better than your Dad on Thanksgiving dinner, experience the Sakana.
Featuring three sizes in 166, 174, and 181, there's a Sakana available for everyone, male or female, everyone can reap the benefits of this innovative ski. When choosing your size, we recommend sizing down from what you would normally ski, as a longer effective edge makes these ski longer than the numbers read.
PESCADO
THE BEST POWDER SKI ON EARTH
The LINE Pescado is the best ski for powder surfing. With a swallowtail design, soft flex, and a massive shovel (nose), the Pescado is made to float through deep snow with ease. A directional back-mounted stance allows the tail of the ski to sink in deeper snow, thus raising the tip and giving you more control on those deep days. Equipped with a Partly Cloudy™ Core and new ABS sidewalls, the Pescado continues to be one of the most innovative, unique, and insanely-fun powder skis on the market.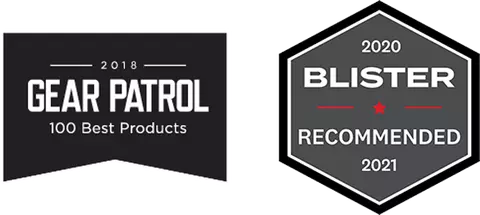 Full Swallowtail Collection