START PLANNING YOUR SUMMER SHRED TRIP NOW Summer is just around the corner, and dang did it come outta nowhere. With most ski areas shuttering their doors, you're staring down a long stretch of summer with not a whole lot of shredding in sight. Sucks, right?! But it doesn't have to. There are tons of […]
START PLANNING YOUR SUMMER SHRED TRIP NOW
Summer is just around the corner, and dang did it come outta nowhere. With most ski areas shuttering their doors, you're staring down a long stretch of summer with not a whole lot of shredding in sight.
Sucks, right?! But it doesn't have to. There are tons of options to keep the stoke alive long after the local lifts have stopped spinning. And the best part? You can queue up those summer laps alongside the freaks and wierdos that comprise the LINE Mountain Command. From Taylor Lundquist, to Will Wesson, and Andy Parry, LINE will be out and about, skiing all over North America.
---
Momentum Ski Camp
For those inclined to head north, Momentum offers the ultimate summer training ground. Based in Whistler, Momentum consistently offers arguably the best big jump found at summer camps – possibly parks the world over. LINE MC's run the coaching staff, with Sandy Boville leading the charge. Jarrad McCarl, Will Wesson, and a handful of other guys will make an appearance. If you're lucky, you can even catch Dylan Siggers blasting through once and a while.
Woodward Camps
Don't have the funds to hop a plane to America's expensive neighbor to the north? Can't blame you. Even with the conversion rate, it takes a lot of toonies to venture to the great white north. Instead, head over to one of Woodward's Camps. With locations in Colorado and Tahoe, Woodward farms snow all winter long to make the most out of the summer shred. With creative rail setups and a lively camp environment, Woodward offers easy access in an affordable package. LINE MC's Will Wesson, Peter Koukov, Carson Kerr, and others are always around, popping in here and there to teach you a thing or two.
Windells
There's no doubt that Windells Camp, perched atop the Palmer Snowfield, has long been the proverbial center of the summer ski scene. With a massive park, perennial presence of the top pros, and the best weather imaginable, Windells packs a host of summer fun under sunny skies and killer vibes. It's long been a LINE stronghold, and the Summer of 2018 is no different. Taylor Lundquist, Par 'The Peyben' Hagglund, Khai Krepela, and Andy Parry all have Pro Takeover Sessions. You'll be able to shred alongside all these guys. Sounds pretty rad, right?
But the best part of Mt. Hood in the summer time is probably the public park. At times, stretching the entire length of the Magic Mile Chairlift, offers an insane amount of creative jibs, smooth jumps, and enough flow to keep you buzzing all day long.
---
But in order to take full advantage of the summer shred, you'll probably need a fresh pair of park skis. A long year of bashing rails and skying jumps has probably left your skis clapped out and thrashed. Re-up with one of our awesome Freestyle Skis. From the ultra-flexy Blend, to the big jump stability of the TW Pro, or the growlin', don't-take-no-sh@#t durability of the Honey Badger, we've got just the ski you need.
Check 'em out HERE.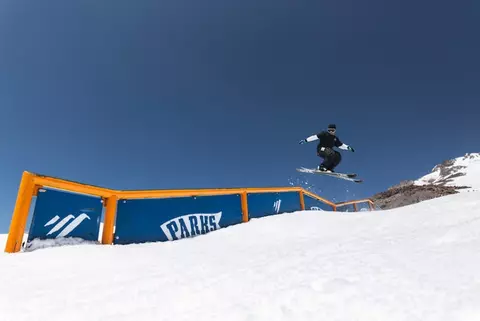 And, if you swing into one of your local LINE Shops, they've probably got some screaming deals. Just saying.