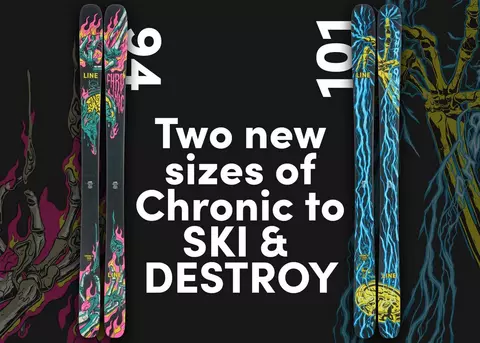 SAME LINE CHRONIC FUN, NEW SKIS.
Designed for All-Mountain Freestyle enjoyment, the Chronic 94 and 101 are beefed up with our latest durability improvements. From thick-cut sidewalls for impact resistance to refined tips and tails to minimize delaminations, these Chronics are the beefiest freestyle skis we've ever made. Whether you're trying to rip morning arcs on the groomers, charge through afternoon crud, or hot lap the park, the both Chronic offer a versatile, stable platform to take you wherever you want to go on the mountain.
LINE CHRONIC 94 | PARK 'N PLAY
Designed for all-mountain freestyle enjoyment, the Chronic 94 remains the dopest all-mountain freestyle ski. What's even doper is the adjustments we've made to this flagship ski. Complete with Bio-Resin to increase bonding within the core, new Thin Tip Technology to increase tip and tail durability, and Thick-Cut Sidewalls for added edge strength, the Chronic 94 is the beefiest freestyle ski we've ever made. Pair these durability improvements with a refined overall shape, and you've got a sustainable ski that will feel just as good stepping up to the big jump line as it will ripping early morning groomers.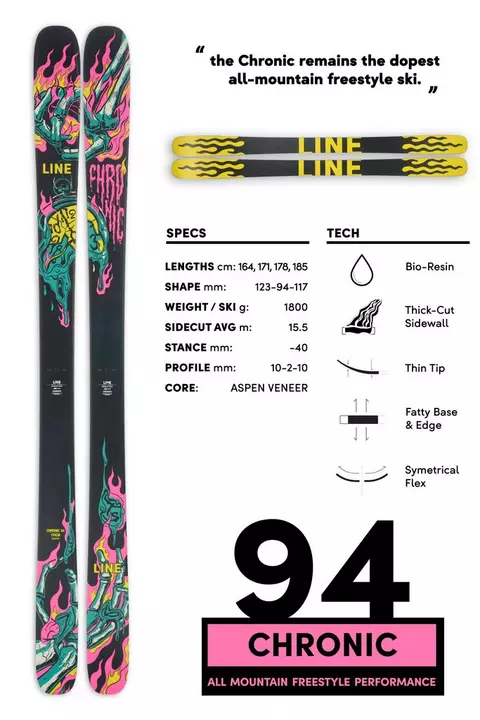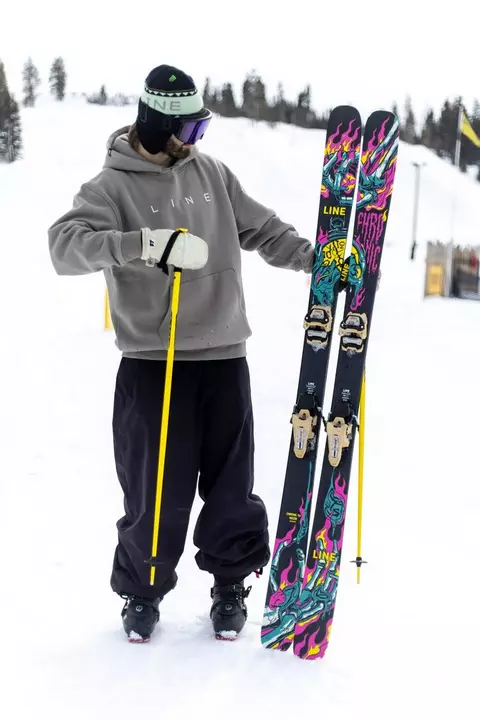 LINE CHRONIC 101 | PARK POW 'N PLAY
It's an all-new Chronic, maaan! We're hyped to introduce the expansion of the Chronic Collection with the all-new Chronic 101. This versatile all-mountain freestyle ski features the same durability superpowers as its little brother down to the beefed-up sidewalls, tips, and core. For those wanting to take advantage of all the mountain has to offer while having the ability to hot lap the park, the Chronic 101 is here for all-mountain freestyle enjoyment. Become part of the C crew and get after it on the Chronic 101.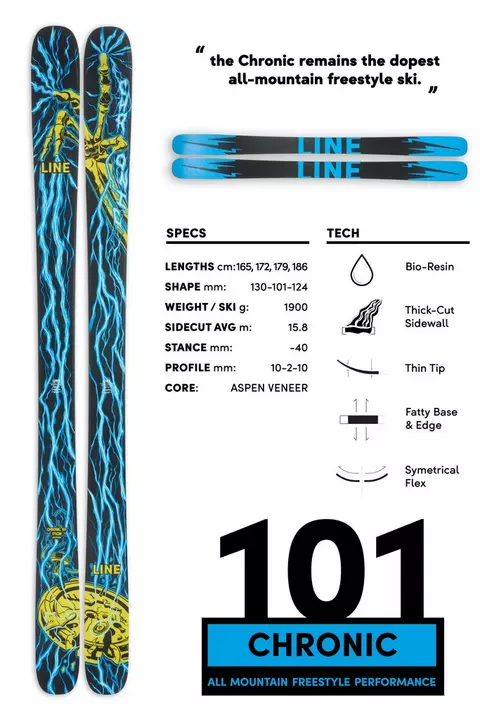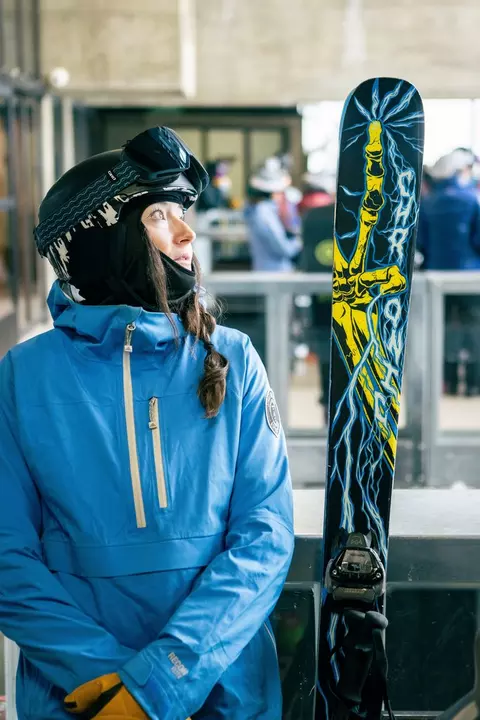 OLD LINE CHRONIC VS NEW LINE CHRONIC
Outside of 3 significant durability improvements (see below for durability specifics), the new Chronic 94 and 101 feature a new shape for better all-mountain skiing. We listened to our athletes and found that they wanted a slightly longer turn shape with the new Chronics, so we lengthened out the side cut radius in the forebody of the ski to give a more consistent draw into the turn. We also increased the taper regions in the tip and tails to make the skis more forgiving and easier to pivot around. Finally, we blunted the tips and tails and gave them some extra height for better soft snow performance and overall versatility. In summary, the Chronic 94 & Chronic 101 represent two bomber park skis that can rip all over the mountain.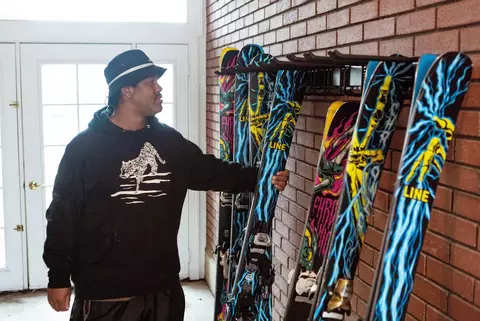 LINE CHRONIC DURABILITY UPDATES?
Bio-Resin: We're always looking to make our skis more durable and sustainable. One key material that factors into both categories is the resin found in a ski. For the past two years, our engineers have been developing a custom resin solution, known as Bio-Resin, that features better bonding, improved cold temperature toughness, and a 20% reduction in the carbon footprint of the resin for every ski produced. That 20% reduction is equivalent to driving the Traveling Circus van 10 miles for every ski produced. The Chronic 94 and 101 are the first skis we have brought to production with our new Bio-Resin technology.
Thin Tip: Park skiing is hard on your skis. There's no way around that. The tips and tails can take a beating from consistently slapping down on landings and knuckles, running into rails, and slamming down on ledges. That's where our new Thin Tip Technology comes into play. We've extended the ski core to run through the tips and tails while creating a glass-on-glass bonding area in both the tip and the tail. This gives even compaction over the tip / tail of the ski and encapsulates anything that could delaminate in a large glass-on-glass bonding region, meaning that while delamination's can always happen, this will keep the delamination from propagating to the core of the ski and limit it to edge chipping. This new Thin Tip technology creates a much more durable product with both impacts and slaps while improving swing weight at the same time.
BONUS - Swap Bases: Sure this isn't contributing to the beef'd up durability improvements but worth mentioning as we all certainly care about reducing waste! The bases of both the Chronic 94 and 101 will swap lightning and flame base color layups respectively to use as little amounts of base material as possible. Less waste, happy face.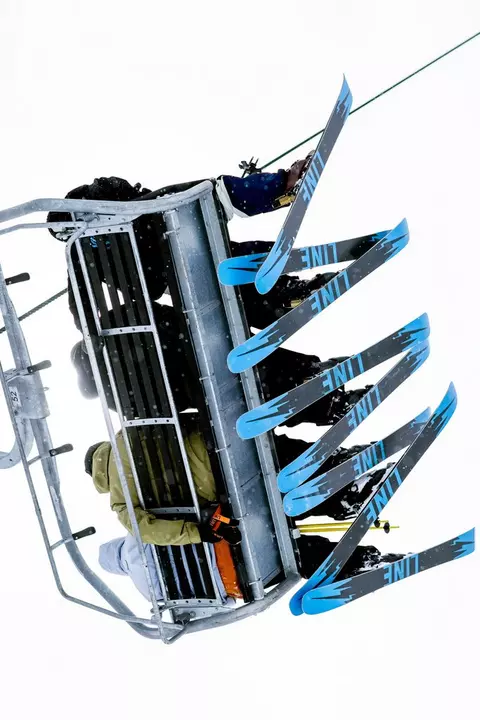 THE LINE CHRONIC 94 and 101 | YOUR QUESTIONS
We toss'd up an IG story question portal for all y'all keyboard warriors to get your big questions tackled by the crew. There may be some slight overlap to the info above - consider it a refresher!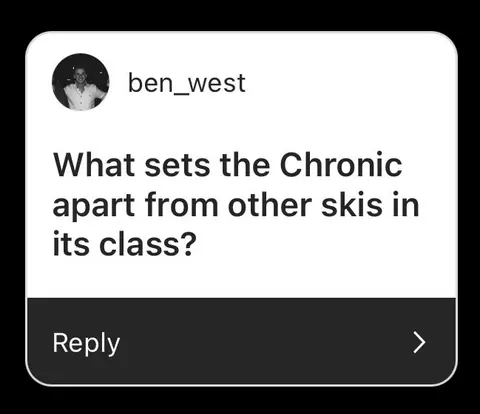 Many options here as expected! Were going to keep this tidy and compare to the top freestyle skis here so this page doesn't go on forever - dm us on ig for any other comparisons! The stiffest flex of our freestyle collection, the tom wallisch pro ski is purpose-built for park and urban skiing, prioritizing agility, responsiveness, and maneuverability. Its symmetrical shape and narrower waist width make it an excellent choice for spins, rails, and jumps.
In contrast, the line chronic 94 and 101 are versatile all-mountain freestyle skis that perform exceptionally well in both the park and on the rest of the mountain. It boasts a slightly wider waist width compared to the tom wallisch pro, providing enhanced stability and flotation in varying snow conditions. Both chronic's bring a balanced flex that strikes a harmonious blend of playfulness and stability, catering to skiers who desire a well-rounded performance.
The blend is 100mm underfoot, and the chronic 101 is 101mm underfoot. So what's the difference, right? Simply put, the blend is our freestyle team's favorite ski for buttering, manueling, flexing, and getting creative. If you want a park-specific ski that allows you to flex like will wesson and mitchell brower, then the blend is your ticket to ride. If you want a ski that offers a stiffer, more stable platform and performs well all over the mountain, not just in the park, we highly suggest the chronic 101.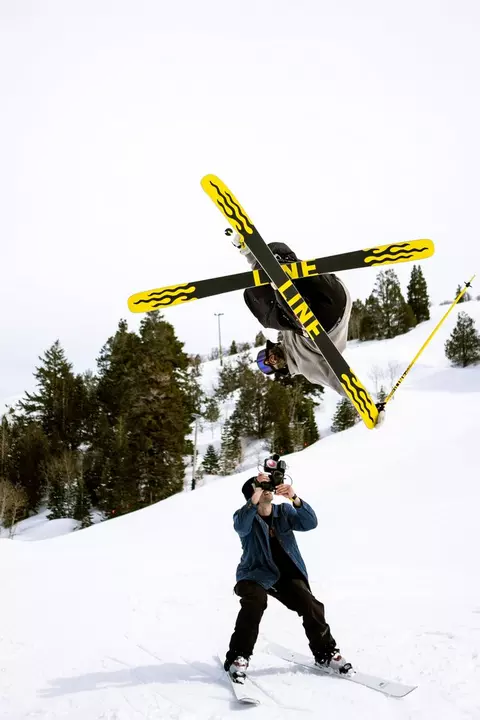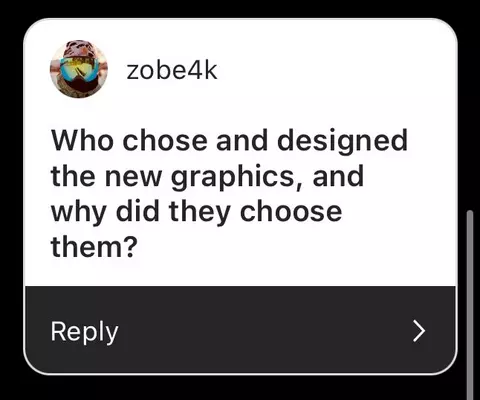 Dan Danner is following up his stellar work on last year's LINE Chronic in a way we totally saw coming… which is blowing our damn minds yet again. (Guy's still skating the mini ramp better than you ever will btw.) The destruction of the clocks by both flames and lightning variants signify the 'Chronic' wasting of time. See what he did there. An ode to still doing the same crazy shit out there you did as a youngin, taking advantage of the time left, and not forgetting that when your older you can still remember your Golden days Chronic days!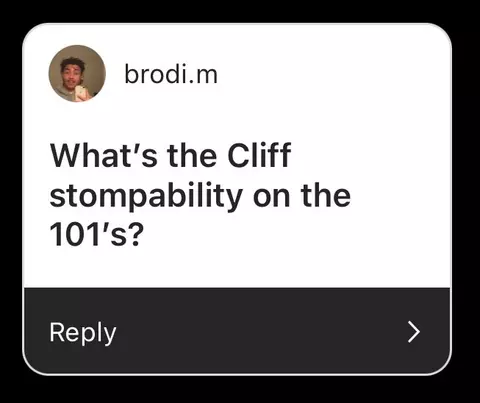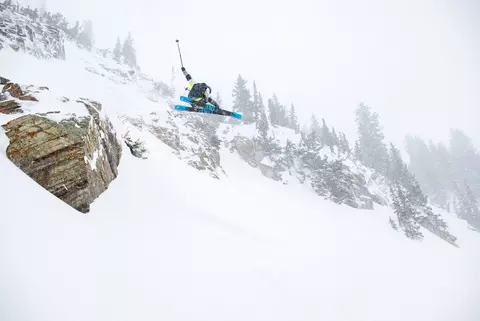 The LINE Chronic 94 is best suited for all-mountain freestyle skiing, particularly in groomed runs, park features, and variable snow conditions. With a narrower waist width of 94mm, it provides better edge-to-edge responsiveness, making it more nimble and quick on hard-packed snow. The narrower profile also enhances its carving abilities, allowing for precise turns on groomed terrain. The Chronic 94's versatility makes it a great choice for skiers who enjoy a mix of park and all-mountain skiing.
On the other hand, the LINE Chronic 101 is designed for those seeking a wider platform to tackle a variety of terrain. With a wider waist width of 101mm, it excels in soft snow, powder, and ungroomed conditions. The increased surface area provides better flotation, allowing for easier maneuvering through deeper snow. The Chronic 101's wider profile also enhances stability and control when skiing at higher speeds or in choppy conditions. It remains versatile enough for park features, but it truly shines in off-piste and more challenging terrain.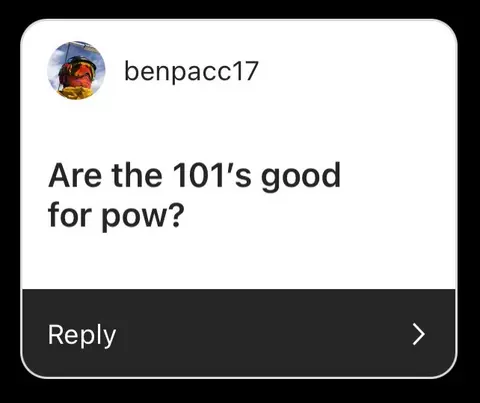 If this question hasn't been answered yet, can CONFIRM!!!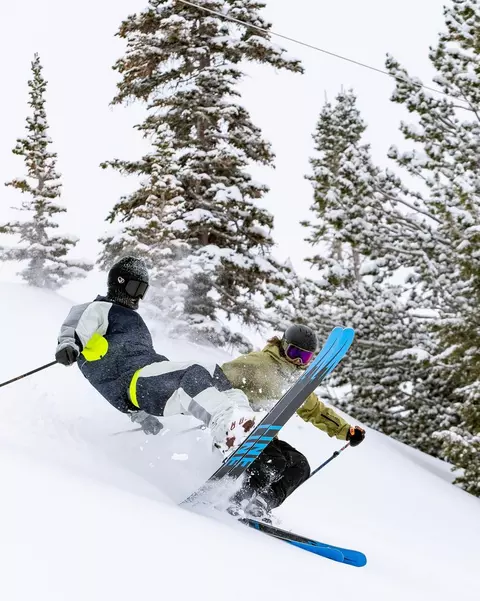 ALL THE CHRONIC YOU CAN HANDLE, SOON.
Stay tuned on all of our socials, late summer these baddies are up for grabs!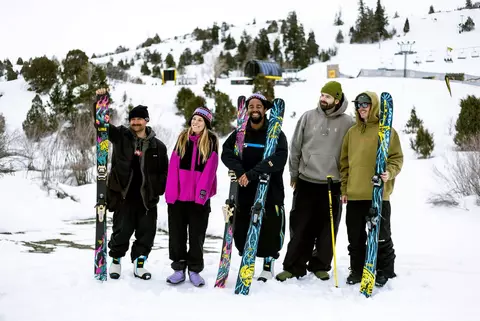 SHOP ALL MOUNTAIN FREESTYLE SKIS (COMING SOON)