Get to know WOODSY!
Born and raised in Sheffield, England, James Woods or better known as "WOODSY" has been shredding since he was knee-high to a snowflake. When he's not defying gravity on the slopes, you can find him devouring his favorite pizza or spreading smiles with his contagious laughter, and MEGA as he always says energy around Jib League.
But don't let his fun-loving attitude fool you; James is a serious force to be reckoned with on the slopes. He's a multiple medalist at the Winter X Games and other major competitions, and he even represented Great Britain at the Winter Olympics. His signature moves in Slopestyle and big air competitions continue to wow alongside his high sprung energy for the sport that is second to none!
Q&A
DOB:
19th January 1992
Home mountain:
SSV, Sheffield Ski Village (dry slope in north of England)
One thing you like:
Lazy mornings sleeping in.
One thing you hate:
missing the sunrise (my daily paradox😂)
Season plans?
To truly enjoy skiing this season! My priorities are; shredding with friends, get Jib League started on its first ever season and to catch a few rad shots along the way. 😁
Why Line?
After a couple of years testing out every ski I could get my hands on, I became very comfortable on Lines. There is an unmistakable feeling of playfulness throughout the range and this comes across heavily in the brand's overall initiative as well. I like this as I truly believe freeskiing is a playful approach to time spent on snow and above all an art form. Additionally when considering Line's heritage in the Freeski space, I'm proud to officially be amongst those that have and still represent Line. Thanks for having me! 😁
Anything else?
Keep an eye out for Jib League, Woodsy's World, and see you on the side of a hill some time soon! 🤩
FIND MORE WOODSY HERE!
twitter & instagram: @JamesWoodsy
Get to Know Lisa Zimmerman!
Lisa has accomplished a lot in a little bit of time. Growing up figure skating, Zimmerman just recently picked up freesking. In 2010, she followed her father and brother to a regional slopestyle contest, where she decided to enter last second for fun, turns out she won. Within the next year, she gave up figure skating all together to pursue her free-skiing dreams. Although Germany only has a small free-skiing community, Zimmerman has been able to travel the world and represent Germany in contests everywhere from Austria to New Zealand.
It's hard to believe she's only been skiing for a few short years, considering Zimmerman was the first female to land a double-cork 1260 in competition, and is still one of only a handful of women that can do the trick.
On top of all of her skiing success Zimmerman has been able to balance her academic studies, even when it has meant putting school before contests.
Zimmerman represented Germany at the 2014 Winter Games in Sochi. She placed 14th.
Q&A
Your Home Mountain – or where you're gonna be skiing this year:
Absolutpark, Flachauwinkl Austria
One thing you like:
Cats
One thing you hate:
Milk
A brief outline of your plans for this season:
Enjoy skiing, participate in fun events and push my coaching events :)
Why LINE?
The best Team in the biz and a brand that supports people beyond comps!
Anything else you want to add!
More Tubes in parks!
FIND MORE LISA!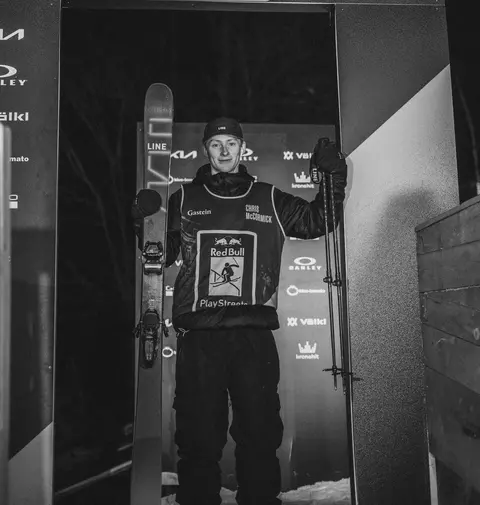 GET TO KNOW CHRIS!
Chris started skiing when he was six years old at his local dry slope in Bearsden with his older brothers Danny and Matt. He is also now a coach at Bearsden Freestyle whenever he is home between training and competing. Growing up, Chris' main skiing inspiration was current GB Snowsport athlete James Woods.
(Thanks GB SNOWSPORT for the Bio!)
Q&A
Age
24
Location (where you're from / where you ski)
Glasgow, Scotland.
One thing you like
Hiking rails
One thing you hate
Talking
A brief bio – basically your chance to tell the world who you are – where from, background in skiing, type of skiing etc
I learned to ski at my local dryslope Bearsden Ski Club when I was around 6. Spent most of my childhood there and now just feel very lucky that I get to travel the world skiing everyday. I mostly do contests at the moment but currently very much enjoying skiing street whenever I have the chance
Plan for the season (next season)
I'll still be doing most of the World Cup events next season but plan to be filming street whenever I have time in between. At some point I'd like to film a project with my brother Matt who's a pretty sick filmer and snowboarder, so it'd be nice to make a start on that.
Why LINE?
LINE are one of the original ski brands from when I was growing up so it's an honor. The skis are sick and the team is so diverse which is really refreshing. Plus they support my interests in skiing contests whilst also helping me find my start in other areas which I think is pretty cool.
What else should people know?
I study Maths and Physics which I quite enjoy!
FIND MORE CHRIS!
Our new Pro's favorite LINE gear!