We had a vision, so we made the Vision. We wanted freeride skis that were more capable in a wider array of conditions than what was present in the current market. So we made our vision a reality; enjoy.
-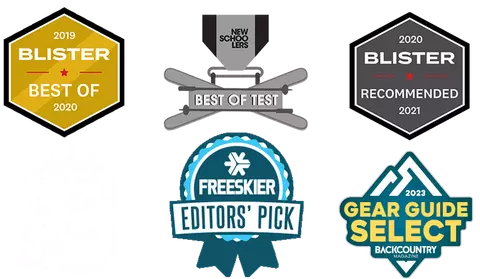 See The Light
We wanted a freeride ski that didn't exist (yet) so we spun up a few prototypes in the ARC, our development center in Seattle, WA, USA and took them to the hill and holy sh*t we had a winning layup from the get-go. These boards were a passion project for LINE's internal team, made up of aging (not old, but ya know, aging) LINE freestyle-y riders who still like to ride the lifts but more and more lately have turned to the softer landings and heady skin tracks of the backcountry.
Artist Spotlight
Meet Milton Campbell, the graphic design artist behind the 22/23 LINE Vision Collection. Milton, who designs within the Brokin nglish Design Collective, and goes by Omega Whatts as a DJ and Musician, has been a freelance artist for almost two decades. As an audio and visual learner, Campbell's workspace is surrounded by records, turn tables, and synthesizers, all of which he uses to draw inspiration for his work, and in this case, the 22/23 Vision Collection.
THC CONSTRUCTION
So you want a light AND stable ski eh?! Those attributes inherently work against each other - when a ski is too light, it's unstable and when stable, it's too heavy. A design solution was needed, enter THC Construction.
No, it's not just an excuse to make a pot reference; well kind of but this is serious technology. Standing for "Triple Hybrid Construction" a unique layup of Fiberglass, Twaron® Aramid (it's like Kevlar®) and Carbon Fiber stringers smooth out the vibrations caused by such a light wood core as these three different laminate materials resonate at different frequencies, this creates a hyper-damping construction that allows for us to shave overall product weight while maintaining a highly responsive ski.
The LINE Vision 98 shares the same build and featherweight feel as the Vision 108 and 118, straight down to the THC Technology. Whether you're looking to rally through the freshies, arc on groomers, or motor-up skin tracks, the LINE Vision 98 is up to the task. It may be one of the lightest skis you'll get your hands on, but don't let that fool you, the Vision 98 will rip whatever you throw at it.
The freeride ski that can slap down pillow stacks one day and explore far-out zones the next, the LINE Vision 108 re-imagines what is possible for lightweight freeride skis. Stable at speeds, light in the air, and easy to control, the Vision 108 is perfect for ripping the entire mountain one day and conquering dawn patrol the next.
A favorite among athletes Dylan Siggers, Jonnie Merrill, and Jake Hopfinger, the LINE Vision 118 is your ticket to ride on days when the storms are rolling, and the snow keeps flying. With a finely tuned taper and rocker profile, and a light core reinforced with THC Technology, the Vision 118 can blast, arc, and surf the deepest of the deep without making your legs feel like lead. Drop in on this incredibly lightweight freeride ski and forge through anything the mountain may throw at you.
PANDORA 110
The Pandora 110 may not be a part of the Vision Collection by name, but it does feature the same super powers, from the lightweight Paulownia and Maple core down to the THC Technology. With a refined rocker profile, attuned tapering, and a functional 110 waist width, the Pandora 110 will float through pow, arc on groomers, and fight fatigue on the skin track. Drop in on this award winning team favorite and prepare to see the light.