THE WEEK. THE SQUAD. THE CAMP.
Tucked among dense hemlock and fir, crisp mountain air is an every morning occurrence here. This air billows down from a late summer, still snow laden 11,000+ foot Mount Hood. At her base she's essentially a painting irl and oddity as you imagine "People are still skiing here?!"
Windells Sessions are quite legendary with pretty much any athlete under the sun you can think of gracing Windell's fun soaked, skate park riddled, mountain bike path laden Oregon campus. This place is special and if you've spent anytime here you know the mix of these campers (many pros of tomorrow), coaches/staff, and Pros along with the location is the catalyst for it all.
This Summer we brought our largest crew of Pro and AM athletes to Hood ever! Guest Pros Will Wesson, Tucker Ftizsimmons, Taylor Lundquist, and Jed Blue Waters kept things all time with a support squad of athletes Bennie Osnow, LINE CANADA - Phil Gaucher, Windells Coach Simeon Glas, Reagan Wallis, Mason Kennedy, and many many more!
ON HILL.
So basically yeah. We're summer skiing baby. The team has assembled, the beach is hot, and campers are mad stoked to be making all their friends jealous skiing in July.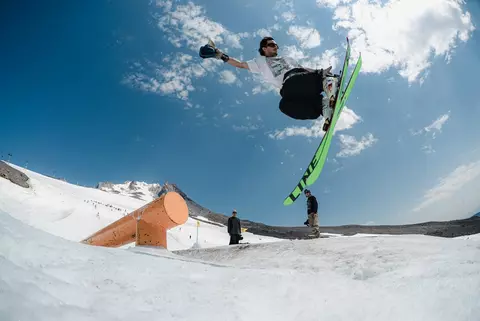 Timberline Parks did a kickass job keeping the park clean for Pros and campers (casually losing almost a foot of snow a day). #GodsWork #HardestParkCrewOnTheMap With a sick mix of features to choose from the crew made quick work at getting busy and making the best of the summer setup provided.
You ain't leaving without some LOOT! Our Pros posted up for some on hill rail jams and more. The crew rips up the park but we've got a ton of sick campers getting after it with their coaches deserving of next year's goods.
OFF HILL.
So this place is like the Oregon version of Disneyworld minus the weird ass mouse people. Hop aboard as we hit the dry slope, fly into the airbag, and get as stoked out as the campers on the off-hill activities.
"IF YOU CAN DODGE A WRENCH YOU CAN DODGE A BALL." Windells dodgeball is as iconic the baseball is to America. So campus dodgeball was a must and you already know aside from the accidental camper 'doming' with some rubber balls from hell, the team smoked the DC Snowboarding crew with ease.
CHEF DONNY PULL-UP.
We made friends earlier this year with Barstool Sports very own Chef Donny as we found out his daily driver was the LINE Chronic. After some chatting we decided to invite Donny out to come ride/party with the crew. Man 'o man wasn't expecting such a spread as he cooked for the crew each night and morning. Not to mention was another great fit to the crew on and off hill!
SNAG THE CREW'S SUMMER GEAR!