Clag; Low clouds, fog, or smog. That was the overarching theme of five days spent shooting at Grand Targhee last season. But a little Clag doesn't slow down the Clag Monsters, otherwise known as the stacked crew of Jonnie Merrill, Dylan Siggers, Jake Hopfinger, Liam Morgan, WingTai Barrymore, and Garrett Capel.
From in-resort gulley laps to cliff drops of all sizes to backcountry booters and everything in between, watch the crew take advantage of all Grand Targhee has to offer in Clag Monsters.
Crew'd up at Targhee! For a few of these Clag Monsters, it was the first time filming, let alone meeting, each other. We had Dylan Siggers, Liam Morgan and Garrett Capel coming down from the great white north of British Columbia, while Jake Hopfinger and Wing Tai Barrymore made the drive from Bozeman and Sun Valley, respectively. Oh, and we internal dudes flew in from Seattle. So some travel logistics, border crossings, and a lot of miles, but once the crew was together enjoying some Molsons (had to show the Canadians some respect, of course), the shoot was on.
With Jonnie Merrill being a Targhee local, it seemed like a no-brainer to plan the shoot around him. Throughout the week, Jonnie consistently led the crew to unique features, untouched snow, and hot laps within the resort. Although, when you're following Jonnie around, he quickly leads you to the 60-foot cliff drops and questionably high-consequence natural features. It's a quick reminder of how damn good of a skier he is, so take that as a warning if you're ever skiing with Jonnie, or a challenge, whatever your flavor. Just take a look at some of these shots of Jonnie to see what we're talking about here...
Before this shoot, I admittedly didn't know what the term Clag meant. Man do I know now. As the definition reads; Low clouds, fog, or smog, couldn't but much more accurate to what we experienced during our five day shoot. Day one, almost as a little tease, was beautifully sunny (see photo one below to see what I mean). The rest of the week entailed fog, low clouds, and a whole lot of window shopping for those rays of sunshine. So yeah, we encountered some interesting weather conditions, but with the help of Jonnie, we found some pretty untouched fresh snow, some great locations to build booters, and with minimal wind, the crew was able to get sh*t done. These are the Clag Monsters. A little bit of fog and clouds aren't stopping them from getting the shot.
So yeah, we had some Clag, but like I said, it didn't matter for these guys. From backcountry booters to dropping 50 footers, the crew stacked shots all week long. You can view this shoot as the start of something special. A great crew, geared up with their new favorite skis, the LINE Freeride team is coming in hot. Stay tuned for big things in the future. Thanks for watching Clag Monsters :)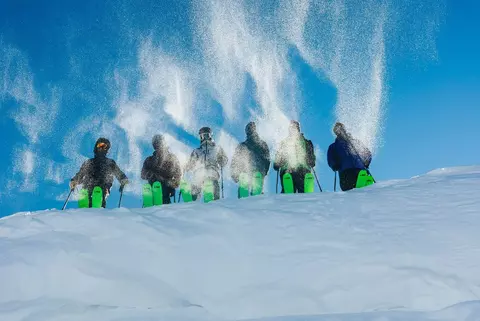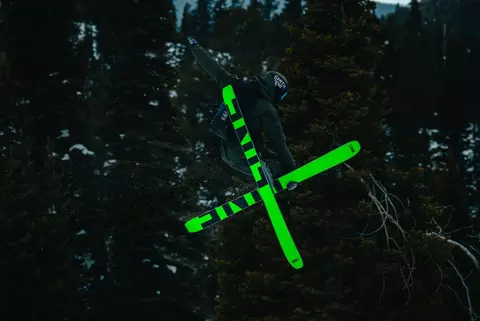 Grab The All-New Blade Optic