Arguably... hahah no no.. no arguing about it she's the big stepping, rough riding, and queen of steeze out on the slopes. Every. Damn. Season. 🥵 We sat down with Taylor Lundquist to go over what's going on in TBL land and the BIG TINGS happening in her world this season!
2022-2023 Season Q+A with TBL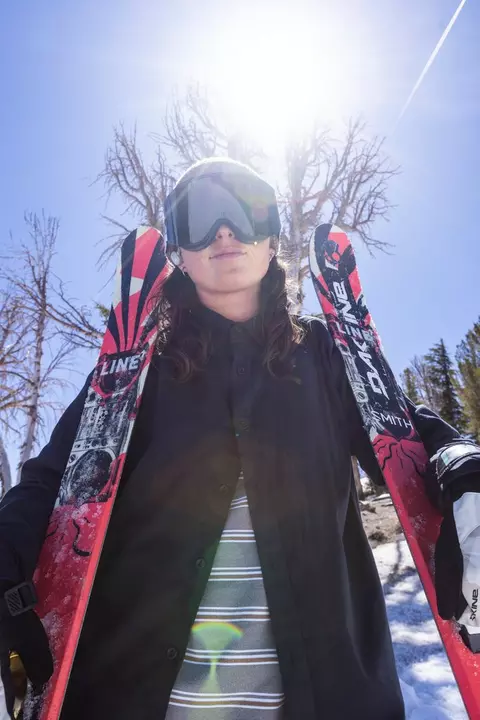 Boiler plate question! Any big plans ahead for the upcoming ski season!?
Oof, Will Wesson might be mad at me for this one, but there is a LINE 2 year street project in the works that we will be finishing up this winter. SKI4X is behind the lens on that one. Also, boarders are open, I am going to Japan!
Where do you plan on skiing this winter?
Well I don't like to look into the future much and with snow being so fickle and sparse these days it could be anywhere. That's what is so dope about filming, its very spontaneous. Japan is a MUST though.
Saw you were having a kickass time in front of the lens in Europe last season. Tell us more about your upcoming project 'Recipe' and your adventures overseas!
Ahhh yeah, it was so nice to get back over to Europe after the pandemic, seeing and skiing with Euro friend's. It was crazy actually, we were in France filming for Coline Ballet-Baz's (AKA COCO) movie 'Skivas' when the pandemic started getting serious. We were supposed to go to Italy for Nine's after that but Italy fully shut down. We all had to cut our trips short and head home, not knowing it would be 2 years since we could see each other again. Going back to film for her new movie 'Recipe' was a trip after our experience last time. It felt so good to reconnect with everyone. 'Recipe' is an all women's ski film, including street, free ride and BC. It shows the power of each ingredient in our community, creating a recipe that others can look too.
Go to LINE ski(s) that you'd recommend skiers looking to up their game in and out of the park?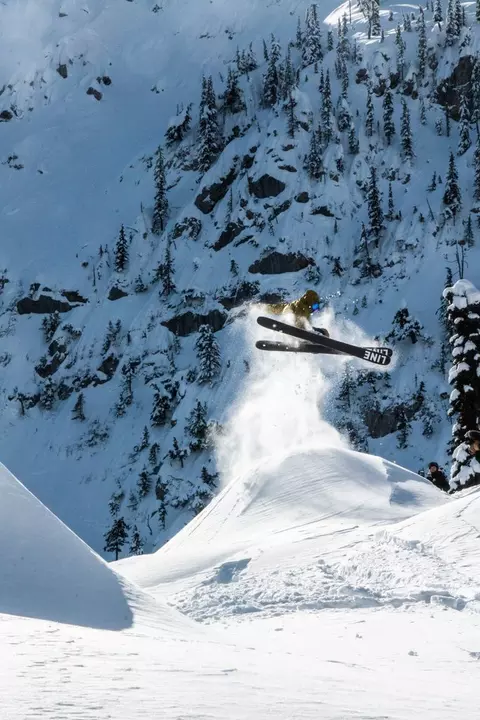 Questions From the Gram!
@calebja_ski_
Where would u like to see women's skiing be in the next 5 years?
I would just love to see more women skiing in general, more fun meet up's, jam's, fun contest's, get togethers. I would love to see skiing eventually get out of the Olympics and go back to it's core. I think the O show is good exposure but man I hate watching 2160's and who can relate to that.
@cat_tarvin
How do your navigating being a queer woman in such a straight male dominated space?
Hmm, that's a really good question. I don't think I am necessarily navigating it, I am just existing in it. I want to help that though, in anyway possible, if it's queer ski meet up's or helping out with org's that already exist, working with brand's that back who I am. Can I answer a question back? How do you see the sport becoming more Queer?
@alexajuncaj
Favorite rail trick!?
You know! Blind swap blind 2
@alexwilson1212
Do you think we will see a women's real ski coming soon?
Honestly, I don't know if this is going to happen anytime soon. I keep bugging them about it and they aren't really budging or giving me a flat out YES or NO. Such a bummer, I hope it comes back from anyone and everyone.
@piper_addisonnn
What took you from being a young skier with big dreams to being a sponsored pro?
Sounds cliche but I never gave up. There were some moments in my life when I thought I should focus on other things (such as college) etc. but I wanted it so bad that I made it happen. Keep pushing thru!
@audo.zone
How did u mentally feel when submitting ur realski part knowing you were amongst men?
Well, I knew that I didn't have a chance haha but it was still so incredible to be apart of and the times filming for Real Ski were some of the most memorable moments of my life, so it felt good, really good!
@montana_ski_dad
How would you encourage a teenage girl that wants to follow in your footsteps?
Do you out there, get inspiration from others but remember you can create your own individual path and style. I think it is really important to have fun with it, get creative, try what others are not. Never give up, even when times get hard, we learn from those hardships.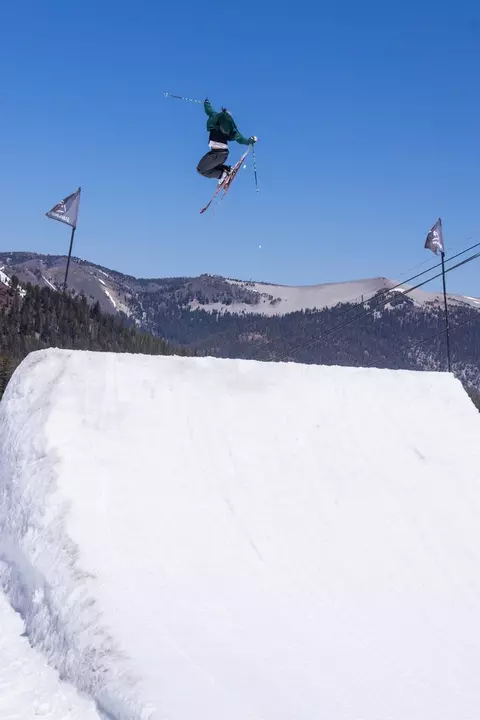 TBL fills you in on her go to ski!