The Artist Series | Dane Danner
November 6, 2022
Hailing from San Diego, California, Dane Danner discusses his experience creating the graphics on the 22/23 LINE Chronic and his inspiration and idea behind the graphic.
A skateboarder, surfer, car collector, husband, father, and one heck of an illustrator, Dane Danner seems to have it down when it comes to mixing his passions with his work. From shaping surfboards for himself and his family, skating the mini-ramp in the driveway with his two sons, and rebuilding and restoring a pristine 1955 Chevy 150 Series Handyman, it's clear that Dane is an impressive and creative individual.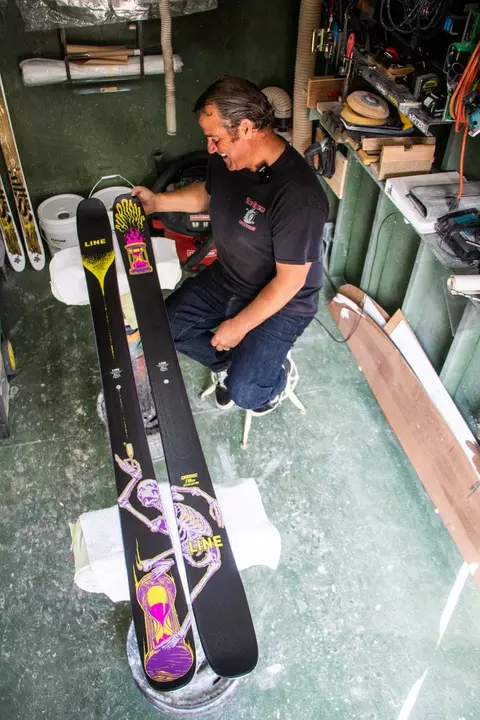 Hailing from San Diego, Dane has a vast background in surfing and skating, which he used as inspiration in designing the graphic for the 22/23 LINE Chronic. Instead of looking at the Chronic and using the classic 'insert weed joke here' direction with the ski, Dane put his twist on the term Chronic by combining it with a sense of time. Looking at the 22/23 graphic, you'll find an hourglass towards the top and bottom of the ski, referencing the sands of time. With the hourglass on the bottom of the graphic, you can see a skeleton surfing the sands of time and toasting to being a Chronic rider.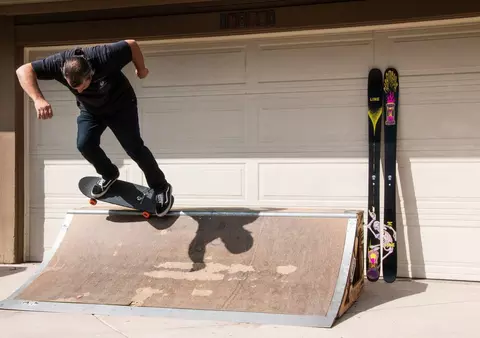 When looking at Dane's work, it's not difficult to see that his favorite genre is Skateboarding. From the bright, neon colors to the use of skeletons and his creativity overall, the skate inspirations add a very rad element to his illustrations, especially when used outside of the skate industry. To put it in Dane's own words, he enjoys creating "low-brow graphics. Just stuff that makes mom and dad cringe." Well, mom and dad might be cringing, but the kids sure are stoked.
Wanna see more of Dane's work? Make sure you keep up with him on IG! @Danedanner
Grab The Skis Dane Designed