BRING HOME THE BACON! 🥓
Bringing home the BACON since '95! Countless extra hours with our enginerds, hundreds of years of skiing experience baked into innovating returning/new favorite skis, and all of this to give you confidence underfoot for years to come.
Don't take it from us. Proof is in the pudding as you explore which LINE all-mountain skis won what from some of the most respected publications/gear resources in skiing below. Don't care? Well okay... here's the competitions latest and greatest...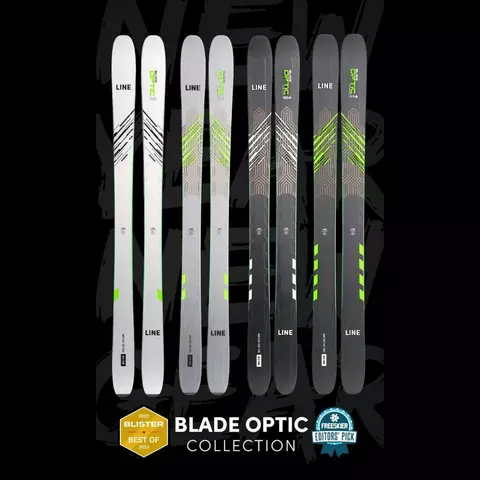 Born from LINE's history of pushing freeride skiing in a new direction, the Blade Optic Collection breaks the mold of traditional metal-laminate ski design, pulling notes from two award-winning LINE Skis, the Vision and the Blade. Fusing the intuitive freeride capabilities of the Vision's chassis, with the technology and power found in the Blade's Gas Pedal Metal™ construction, the Blade Optic Collection was created for pedal to the metal ripping from the firmest of corduroy to the deepest of pow.
Explore the Collection or get caught up with Unofficial Network's Blade Optic Overview!
"Holy shit did it hold up to the hype," says tester Christian Johansen. "Unbelievably stable at high speeds, absolutely blasted through chunder and super responsive with very little input." Those pining for a freeride ski with guts, the Line Blade Optic 96 will completely change the way you look at the mountain.
Everyone agreed in the ski's powerful prowess and ability to handle the variety of terrain featured at the iconic Wyoming locale, with one tester noting: "How crazy—how can this ski be so insanely stable and good at carving, yet still so flexy and playful. What the f*ck?!"
Available in 92mm · 96mm · 104mm · 114mm widths, set your sights down the mountain, kick it into overdrive, and experience freeride through a new lens. The Blade Optic Collection boasts the distinguished 'Best of Blister' and 'Freeskier Mag Editor's Pick'.
EXPLORE THE BLADE OPTIC COLLECTION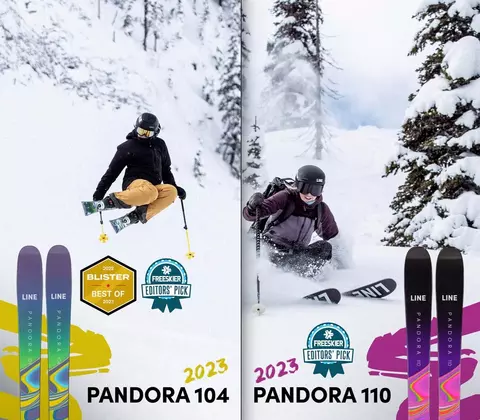 Created in collaboration with ripper Hadley Hammer, the award-winning LINE Pandora Collection defines all-mountain capacity. Quick edge-to-edge performance paired with a surf-like feel on the backend of turns, the Pandora Collection represents the all-mountain skis you need – no matter the conditions. Constructed with exclusive LINE Skis Carbon Magic Finger Filaments™ and THC™ construction, these skis offer an unmatched weight-to-performance ratio for long days on the hill.
Explore the Pandora Collection!
As Freeskier Mag puts it, this slightly smaller width Pandora was "designed with the same materials and intentions of its Big Sister". The Line Pandora 104 is fun, poppy and really easy to maneuver in the bumps," says Emma Getsinger. "It will give you enough play to enjoy the pow but will also allow you to carve on the groomers or hardpack off trail."
The best women's powder ski of the year is one heck of a fun ride! - Lily Krass
Winning just that award from Ski Magazine the Pandora 110 continues to dominate as the go to powder ski of choice in the backcountry and deepest of days! Lily goes on "a fun-loving powder seeker with a surfy, rockered tip and tail but enough camber underfoot to feel your edges when you need them." Ski Mag gets it. Others do as well!
Freeskier Mag tester Sidney Ricketts gives her stamp of approval, saying "It's a fun, schmeary ski that rides through chopped pow really well, but can also carve a great turn on firmed snow."
With four different waist widths, 84mm · 94mm · 104mm · 110mm the Pandora Collection features hard pack specialized skis all the way up to unsinkable powder rippers in an uncompromised design. The Pandora Collection brings in the New Year with a Ski Mag 'Best Women's Powder Ski of the Year', 'Best of Blister Award', and Freeskier Mags 'Editors Pick'.
EXPLORE THE PANDORA COLLECTION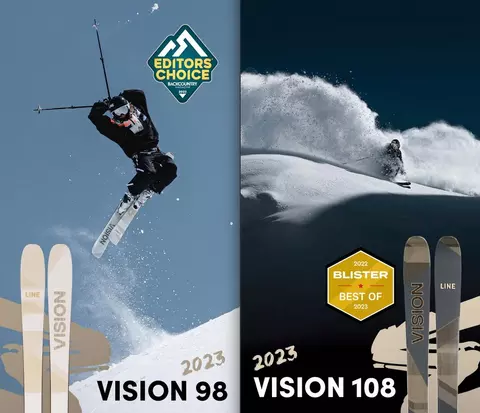 We wanted a freeride ski that didn't exist (yet) so we spun up a few prototypes in the ARC, our development center in Seattle, WA, USA and took them to the hill and holy sh*t we had a winning layup from the get-go. These boards were a passion project for LINE's internal team, made up of aging (not old, but ya know, aging) LINE freestyle-y riders who still like to ride the lifts but more and more lately have turned to the softer landings and heady skin tracks of the backcountry. Explore the collection!
No, it's not just an excuse to make a pot reference; well kind of but this is serious technology. Standing for "Triple Hybrid Construction" a unique layup of Fiberglass, Twaron® Aramid (it's like Kevlar®) and Carbon Fiber stringers smooth out the vibrations caused by such a light wood core as these three different laminate materials resonate at different frequencies, this creates a hyper-damping construction that allows for us to shave overall product weight while maintaining a highly responsive ski.
We had a vision, so we made the Vision. Taking home awards like 'Backcountry Mag Editors Pick' and 'Best of Blister' proves it. We wanted freeride skis that were more capable in a wider array of conditions than what was present in the current market. So we made our vision a reality; enjoy in 98mm · 108mm · 118mm.
THE LINE VISION COLLECTION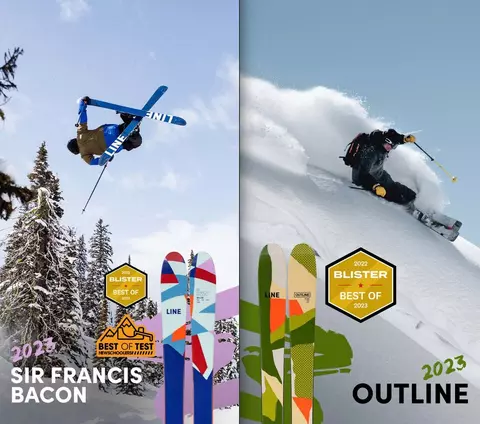 Versatility and playfulness from groomers to powder to park, the Sir Francis Bacon and Outline embody our All Mountain Freestyle Collection. On each ski you'll find a very playful feel designed to help you flex, press, and butter. The Bacon remains the ultimate ski for all-mountain freestyle, while the Outline brings these freestyle characteristics into a chassis that can float and surf through the deepest of the deep. It's easy to see how this collection nabbed 'Best of Blister' and the Bacon with 'Newschoolers Best of Test'.
Our most popular ski, the LINE Sir Francis Bacon, is back for another season. Equipped with a versatile 107mm waist width paired with 3D Convex Tech™ it floats and butters through powder without sacrificing performance on hardpack. Slash through wind lips, butter over rollers, and experience the playfulness the Sir Francis Bacon has to offer. Available in 176mm · 184mm · 190mm.
Tom Wallisch's favorite powder ski. Need we say more? With a fully symmetrical flex and playful feel, the LINE Outline is ideal for anyone looking to add some freestyle flair to their powder skiing or for anyone who doesn't need the stiffness of the Blade Optic or Vision Collections. Featuring 3D Convex Technology™ in the tip and tails of the ski, the Outline can float, slash, butter, and drift like you've never imagined.
Available in 178mm · 186mm.
EXPLORE THE CONVEX COLLECTION