Why did we make the LINE Blade? What is it designed to do? Can you ski park with them? We've been getting tons of questions about what our new futuristic freeride ski is designed to do, so we've laid it all out for you below.
The Blade is LINE's take on a metal laminate freeride ski. It's no secret that our roots go deep into the park and freestyle skiing scene, and those roots will never change, but as unfortunate as it is, you can't really ski park forever. One day, you might wake up and realize you want a ski that can make the entire mountain your playground, a ski that allows you to rip down normal groomers as you've never done before. Instead of bending your blends all day long you want to euro carve your way around the mountain slash and slarve through the fresh snow that fell overnight and leave deep cut trenches in your wake. That's where the Blade comes into play.
It's not your typical boring metal laminate freeride ski. It's designed with a LINE flair, and you know we always keep skiing #Morefunner.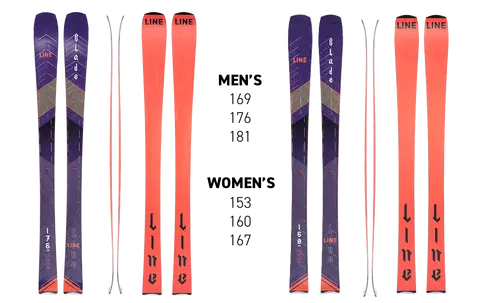 Behind The Design
The dimensions of the Blade are 154-95-124, while the Blade W comes in with 140-92-114. In other words, both the Blade and the Blade W have very large taper angles – meaning the tip width of the ski is much wider than the center and tail of the ski – this, in turn, creates a shape that allows you to slash and slide with ease, creating a playful feel behind the ski. At the same time, the large taper angle paired with large amounts of sidecut allows the Blade to have an extremely tight turning radius. A radius of 13.5m at 176cm, to be exact, which is much tighter than the majority of the skis on the market.
So, you put two and two together and you get a ski that opens up opportunities to turn insanely quickly, while still allowing you to drift, slide, and surf, a perfect mix of power and play.
What's With The Tail Shape? Is it a Twin Tip?
Inspired by old school skateboard and snowboard shapes, we wanted a design that would look rad and create a more freeskiing oriented feel behind the Blade. We wanted to create a shape that would get you noticed in the lift line so everyone knows you're the best skier on the mountain.
The Blade's tail is kicked up about an inch, so no, it is not a true twin. It is not primarily designed to be skied switch with such large taper angles in the shovel of the ski, but that's not to say you can't ski switch. There is enough rise to pop a 180 and do some switch carves down the mountain if that's your style.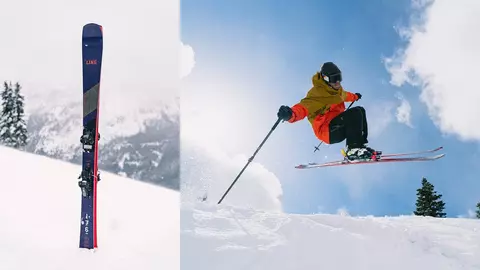 How Does the Blade Compare to the Sakana?
The Blade takes a lot of notes directly from the Sakana. In comparison, the Sakana's dimensions are 150-105-138 with a 15m turning radius, and a recommended mountain point 8cm behind center. The Sakana's core is made up of Paulownia and Maple. The Blade, on the other hand, features dimensions of 154-95-124 with a 13.5m turning radius, and a recommended mounting point 4.5 cm back from center. While the Blade's core features a metal laminate on top of an Aspen core for extra power and energy. Both skis are created to carve, but one carves harder than the other, while one floats better than the other.The Sakana, with its wider waist, back-mounted stance, and long effective edge, is going to perform better in deeper snow. However, put both skis on hardpack and the Blade will blow the Sakana out of the water with its ability to carve like a butcher on Thanksgiving. The Blade is not your traditional park ski. it's not a full twin, and it's not designed for switch landings off of big booters. However, the Blade does have LINE's signature fatty base and edge, so it can take a beating.
In simple terms, the Blade is a narrower, damper, stronger version of the LINE Sakana. So if you like the Sakana, chances are you'll love the Blade.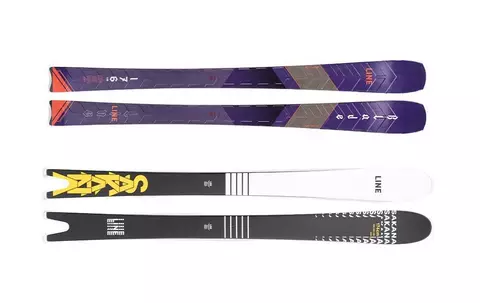 How Does the Blade Perform in Deeper Snow?
We're not positioning the Blade as a one ski quiver kind of ski. If you put the Blade is a bit of fresh snow, say a few fresh inches that fell overnight, then it's going to perform pretty well! The massive shovel will allow you to plow through crud and give you more float than you would expect from any typical metal laminate ski. However, the Blade isn't and shouldn't be your go-to Powder Day ski. After all, it only has a 95mm waist, and a 92mm waist on the Blade W. Go ahead and Grab the Pescado or the Outline for the deep days!
If you want a ski that can rip hardpack all day long and rip through corn, bumps, and a few fresh inches, then the Blade is the ski for you.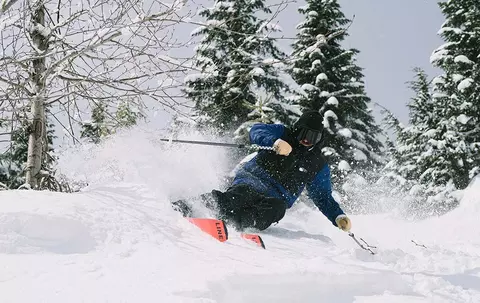 Can You Ski Park With It?
By now you know that.
We're not saying it's designed for sliding rails, the shape and the mounting point should make that pretty obvious, but if you want to rip some hard carving cork 3's off of park jumps, or slash your way down the pipe as Daniel Loosli does below, then, by all means, you can definitely still rip in the park with the Blade.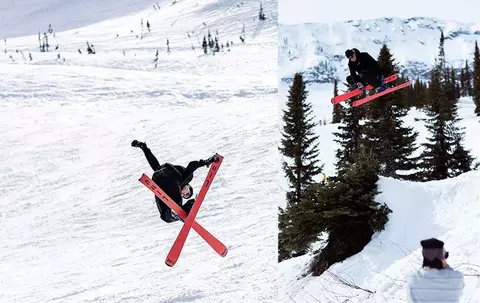 SKI WEIRD, SKI DIFFERENT, SKI #BLADEFUNNER